You can download the school year calendar from here and keep upto date with holidays.
School Calendar
Our Junior Entrepreneur Team will have their business "Wax Creations" in operation at Scoil Mhuire Gransha on Friday March 8th from 1:30-2:30pm. Please come along and support.
Scoil Mhuire Gransha
Newsletter 5th February 2019
Code of Behaviour
Please find enclosed our updated Code of Behaviour for Scoil Mhuire Gransha. Please read the booklet and sign the attached to confirm that you and your child/children understand and comply with the Code of Behaviour
Shared Learning
Our Shared Learning Project with Rockcorry NS took place on January 24th. The infants worked with their partners on the Aistear theme of "The Weather Station". It was a great day of learning for all the children. Back in Gransha NS the boys and girls from the two schools tackled "LEGO WeDo" projects. This time they looked at the area of Morse code and programmed their robots to output a Morse Code Message.
Our next Shared Learning dates are February 14th, March 14th and April 4th.
A trip for all the children taking part in Shared Learning has been organised for May 23rd. More details to follow.
Credit Union Quiz
On Friday last we had 4 teams enter the annual Credit Union Quiz. After 12 gruelling rounds of questions the Scoil Mhuire Team of Deirdre, Finn, Noah and James came out on top in 1st place with our other 3 teams finishing 3rd and joint 8th. The children on all teams did their school and parents very proud. Well done to all. Our winning team now go forward to take part in the Chapter round on March 3rd in the Glencarn Hotel.
Soccer Coach
The children in 5th and 6th class will have a six week block with an F.A.I. soccer coach commencing on Friday March 8th. We hope this will be an enjoyable experience for all the children. We would ask each child to bring in €2 per session to go towards the cost of the coach.
Enrolment
We held our Enrolment day on January 26th. It was a great day getting to meet all our wonderful new pupils for September. If you are aware of anyone else wishing to enrol for Septemebr 2019 please contact the office for an appointment.
Junior Entrepreneur Programme
The children in 5th and 6th class have entered the Junior Entrepreneur Programme for this school year. They are very lucky to have Monaghan Local Enterprise Office supporting them through four workshops in the school. We hope this will guide them in their decision making and business strategy.
The children will host a "Non-Uniform Day" on Friday February 15th. We would kindly ask each child to bring €2 contribution to the Non-Uniform day.
As part of the children's experience in the Junior Entrepreneur Program, Ms. Campbell has kindly organised a trip to a candle making business, Bumble and Blue in Dungannon Co. Tyrone on February 20th. Further details to follow.
Aistear
This month the theme in the Aistear Classroom is the Hospital. Children are learning vocabulary associated with the Hospital. Again, the "Magic Word Box" is in operation in all classes to develop language skills.
Active Schools
We have a new page on our website www.granshans.ie dedicated to all Active School Activities. Our P.E. policy, Active School Progress and Active Newsletter are available to view. Well done to our Active School Committee who organised a super successful 10@10 activity morning on Friday February 1st. A sample of the work can be seen on our Twitter page @Gransha_NS
Mid Term-Break
The school will close on Wednesday February 20th and re-open on Monday February 25th.
To keep up-to-date on all things happening in our school please visit
or follow us on Twitter
@Gransha_NS
Friday February 1st saw the annual Credit Union Schools Quiz take place in Largy College Clones. Scoil Mhuire Gransha we're delighted to have 4 teams entered in the senior competition. After some testing questions our teams proved worthy competitors finishing joint 8th, 3rd and 1st. Well done to all the boys and girls and to the dedicated parents for supporting the children.
Parent teacher meetings will take place in Scoil Mhuire Gransha on Thursday October 26th from 3:30pm to 6:30pm.
Please click on the link below and follow the instructions to book your preferred time with your child's teacher
https://ptcfast.com/schools/Scoil_Mhuire_Gransha
Thank you!
Scoil Mhuire Gransha
Newsletter
October 2017
School Closure
Scoil Mhuire Gransha has received notification of whole staff training for the New Language Curriculum on Tuesday January 16th 2018.  The school will not be open to pupils on this day.
Morning Club
Morning club operates each morning from 8am to 8:30am at a cost of €1 per day per child.  For more information please contact Ms. Leddy.
School Photographs
County Photos will visit the school on Tuesday morning.  All children are asked to wear their full school uniform. Please see attached leaflet for more information.
Football
Well done to the boys in 4th, 5th & 6th class who took part in the Cumann na mBunscol league in Éire Óg grounds on Tuesday last.  The boys faced tough opposition but played their hearts out.  Well done to Deravoy NS who now qualify for the final on October 21st.
Garage Theatre
On Friday 13th October the children from Junior and Senior Infants will take a trip to the Garage Theatre in Monaghan to see "Teddy's Day on the Farm".  The show will begin at 9:30am so please ensure the children are at school in good time on this morning.  A great show is guaranteed.  There will be no cost involved.
Adult Computer Class
The school is in a position to run "Digital Skills for Citizens" basic internet training.  These classes are free of charge and will be run in the school.  They will run from Tuesday, October 17th to November 21st.  Laptops and tablets will be available for use if necessary.
The Department of Communications will pay the school for being a host centre.  This money will go back into the purchase of resources for the children in the school.  Please see the attached leaflet for more details.
Book Bills
Thank you kindly to all who have promptly paid book bills in full.
Parent Association AGM
The AGM of the Scoil Mhuire Gransha Parent Association took place on Tuesday last.  Congratulations and thank you to our outgoing committee who have served their two years at the top table.  We welcome our new officers and wish them every success in their roles. Our new committee are :
Seamie McMahon-Chairperson
Edel Sheridan-Secretary
Karen Beggan-Treasurer
Cathriona Doran-Assistant Treasurer
Laura McCabe-PRO
All parents are automatically members of the Parents Association when they have a child in the school.  We would encourage attendance at meetings.  Our next meeting is Tuesday October 10th at 8pm to help organise our annual cake sale.
Cake Sale
Save the date!!! Back by popular demand is the Scoil Mhuire Gransha Cake Sale on Sunday October 22nd in Smithboro Hall from 10am-1pm.  Raffle and Jelly Bean count on the day also!
Clothing Collection 
The Parent Association will run a clothing collection in early 2018. If you are doing a clean out at home please hold onto the bags for our collection.  Date to follow for bag drop.  Thank you.
Congratulations to Ava, Finn, Deirdre and James who made it all the way to the National Final of the Credit Union Quiz Competition. Although not successful at the final stages the children were in the last 400 children taking part out of an initial 25,000! Go team Gransha!!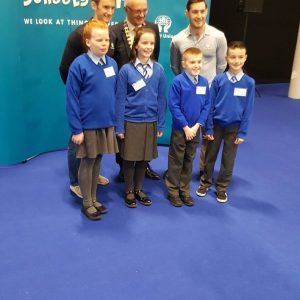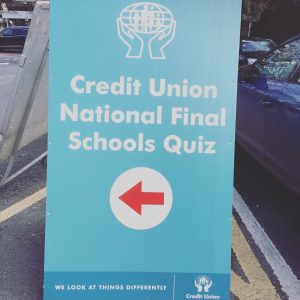 Scoil Mhuire, Gransha
Newsletter
1st March 2017
St Bridid's Day
Many thanks to Eileen Scott, who came to visit us on February 1st. Eileen gave up much of her day to help and guide the children in the art of making St. Bridgid's Crosses. Each child had a go at making a cross and got to take at least one home. Photo's of the day are on display in the school porch noticeboard.
Walk the Earth
Keep an eye on the Northern Standard over the next few weeks as the school will feature as part of the media coverage for the Walk the Earth Initiative. The weather of late has made getting our Kilometres completed quite difficult but the children are determined, and ready to wrap up, and brave the weather.
Credit Union Quiz
Best of luck to Deirdre, Finn, Ava and James as they take part in the regional section of the Credit Union Quiz on Sunday next March 5th in the Nuremore Hotel, Carrickmacross at 3pm.
Gransha Parent Association Update
Gransha NS Annual Cycle takes place on Sunday April 9th. This will be the 4th year of our cycle and it has become a popular event with cyclists near and far.  Please keep the date free as the success of the event depends on the assistance of our parents. We will be looking for marshalls to direct and supervise on the day
On Wednesday February 8th the school hosted a talk on Internet Safety. The talk was very informative. Thank you to all those who attended.
Fun Five's Football
Best of luck to the boys in 1st and 2nd class as they travel to St. Macartan's College Monaghan on March 2nd to take part in a Fun Five's Football Blitz. Thanks to Mrs McKenna for taking the children. We've no doubt they will have a great day and display some brilliant skills during the games. We hope they have a really enjoyable day.
First Penance
Best wishes to Dane, Ava, Pádraig, Michéal, Mollie and Tiernach as they receive their First Penance on Tuesday March 7th at 7pm in Magherarney Church. This is a very important milestone in the children's lives.
Temperance Sunday
Congratulations to Frank, Maoliosa, Hannah, Lily, Kristine and Sarah who took the pledge at Temperance Sunday Mass at the weekend. The children all took part in the mass and made their school and families very proud. This is another step along the road to Confirmation for these children. The next important mass is The Service of Light on April 30th.
Paired Maths
Our Paired Maths activities begin today March 1st and end on Tuesday April 4th.  Each week the children will bring home a fun maths game to be played with a family member. The children really enjoy these games and we would encourage that they are played and enjoyed by all.
Road Safety Update
The proposed periodic speed limit in the vicinity of the school seems likely to go ahead. It's been approved by the Area members and by the full Council's Speed Limit committee. It is understood that the final recommendations in respect of all speed limits will go out for public consultation shortly and then if there's no changes, it will be adopted by the full Council. It is expected that the new speed limit would be in place before September.
Reminder
School Closed Thursday March 16th
Outstanding Book Bills to be paid
Milk €15 per child for first half of school year.
Please visit our school website www.granshans.ie for regular updates about life in our school!